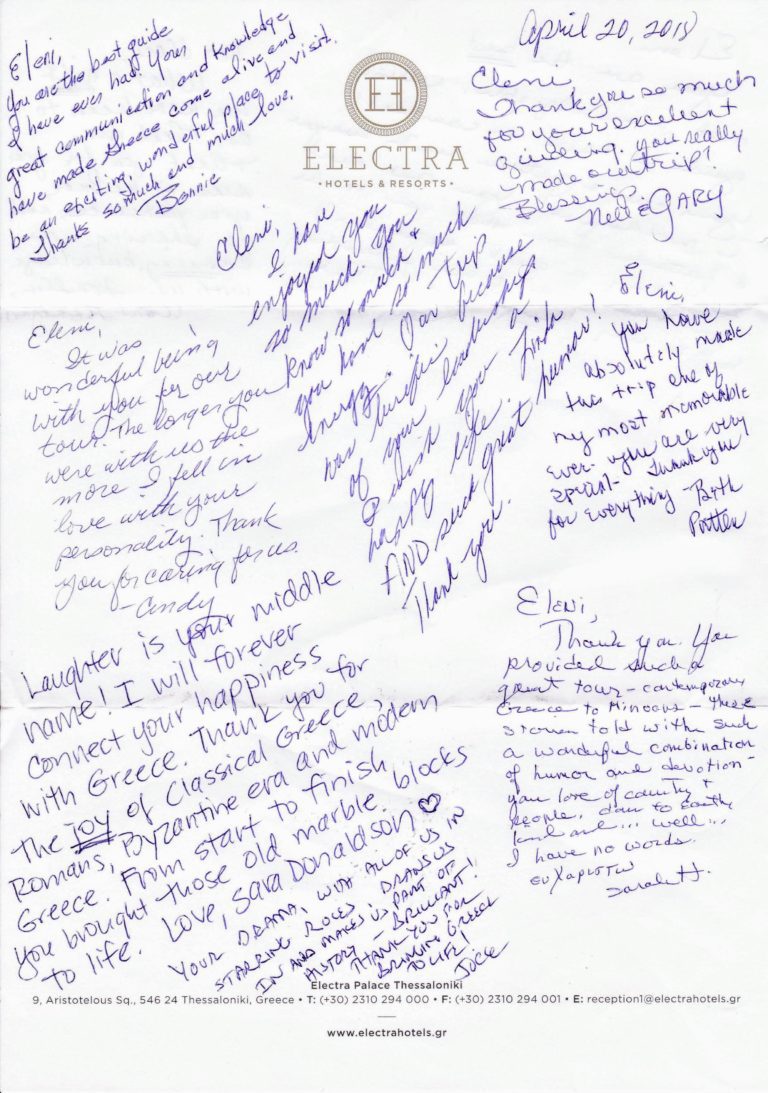 Eleni,
You are the best guide I have ever had. Your great communication and knowledge have made Greece come alive and be an exciting, wonderful place to visit.
Thanks so much and much love.
Bonnie
---
Eleni,
Thank you so much for your excellent guiding. You really made our trip!
Blessings.
Nell and Gary
---
Eleni,
It was wonderful being with you for our tour. The longer you were with us the more I fell in love with your personality. Thank you for caring for us.
Cindy
---
Eleni,
I have enjoyed you so much. You know so much and you have so much energy. Our trip was terrific because of you. ~~~~~~~~~~
Thank you
---
Eleni,
You have absolutely made the trip one of my most memorable ever. You are very ~~~~~
Thank you for everything.
Beth
---
Laughter is your middle name !
I will for ever connect your happiness with Greece. Thank you for the joy of classical Greece, Romans, Byzantine era and modern Greece. From start to finish your brought those old marble blocks to life.
Love,
Sara
---
Eleni,
Thank you. You provided such a great tour. Contemporary Greece to Minoans. These stories told with such a wonderful combination of humour and devotion. Your love of ~~~~~~ people. Down to Earth. ~~~~~~ Well, I have no words.
Eυχαριστώ
Sara